Audience
Pharmacist Week on Capitol Hill is an opportunity for senior care pharmacists to discuss their profession with their members of congress. This event is perfect for advocates of all types – seasoned, new, or students. Every senior care pharmacist is a senior care advocate.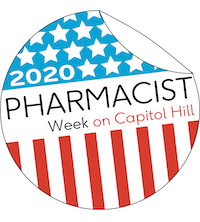 Details at a Glance
All attendees will be granted access to:
CE Webinar - Federal Advocacy 101 available as home study beginning on February 3, 2020
Issue briefing presentation that will be made available closer to the event
Entrance to ASCP's legislative briefing and Q&A
Opening keynote dinner
Optional members only reception to honor ASCP-PAC donors with Special Guest Congressman Buddy Carter
Breakfast briefing prior to leaving for Capitol Hill visits
Closing reception on Capitol Hill with members of congress and NCPA members.
Professional Dress is required.
Lodging Logistics
April 20-21, 2020
Renaissance Arlington Capital View Hotel
2800 S Potomac Ave
Arlington, Virginia